Love That Yacht
,
Fort Lauderdale FL, 33301
Tel:954-870-3667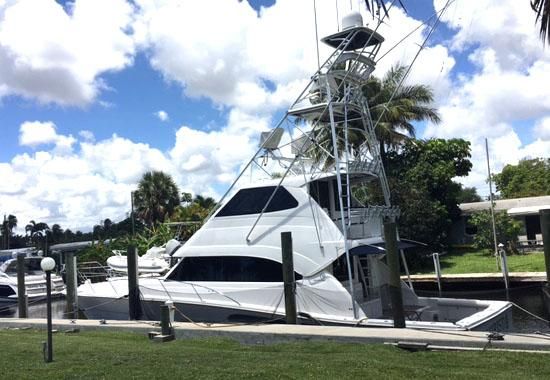 2004 Riviera 58 Enclosed Flybridge
Fort Lauderdale, Florida, United States
** FINANCING AVAILABLE **
Ask about our In-House financing
This Riviera 58 was built for, and delivered to, the US market. She has fished HI, Mexico, Californian and other fishing grounds. She is a serious , loaded fishing battle wagon.   Check out the photos  and specs and then give me a call. Randall Burg, Owners Agent. She is a very impressive fishing machine and ready for your next adventure.
The 58 Riviera has a deeper forefoot than the previous flagship 48, a flatter run aft and prop tunnels that gave lift, improved the shaft angle and created blade clearance for a smooth ride. The boat has wide strakes that are more downturned than other Rivieras and a keel for directional stability.
The size of the galley, the entertainment system and accommodation, which comprises four cabins with three bathrooms, put this boat in the serious live aboard or long-range category. 
The lay-up, which consists of solid glass below the waterline and a foam and balsa-cored superstructure. The engine bearers, stringers and ring frames are glass-encapsulated foam. All up, displacement is 79,366 lbs, which compares favorably with 82,000 lbs for the Viking 61 and 93,504 lbs for the Bertram 60.
The underwater engineering is solid stuff, with 2.75in shafts, five-blade 33 x 45in props, and big bronze rudders that make this 58-footer really responsive to the wheel.
Did you know necessity invented stools, convenience suggested elbow-chairs, but luxury accomplished the sofa? That being the case, the new Riviera 58 must rate as the epitome of luxury.
You see, on the Riviera 58 there are plush leather sofas flanking the saloon, tracing the dedicated dining area and featuring heavily in the fully-enclosed flybridge. Seats for slumping are just about everywhere you turn, and well, most of them have views.
Riviera's new 58-footer has not one but two electronic helm seats clad in soft leather and fitted with flip-up footrests that are fully adjustable - back, forward, up and down - via a push-button control fitted on their armrestLocated in the enclosed flybridge, which is air-conditioned and fitted with big windows, the helm seats are the best seats in the house. I can report this detail having spent a good deal of time tweaking the buttons and getting myself set. Not that sofas and electric seats were all we tested during our time aboard.
Luxury I expected, but Riviera's big 58-footer was a much more serious bit of work than I imagined. Consider, if you will, things like twin generators, air-conditioning to all cabins and flybridge, a giant flat-screen television, domestic appliances including a dishwasher, and a walk-through engine room with twin 1400hp Caterpillar engines.
Dutch boat designer Frank Mulder is a well-respected name in megayacht circles and an expert in hydrodynamics. Riviera gave Mulder some drawings and told him to design everything from the chine down. This left Riviera with the styling reins for its new 58.
Typically, Mulder makes an assessment of the size of boat he is designing and what will be necessary to accomplish the builder's speed goals within budget and without outrageous power requirements.
The 58 has a deeper forefoot than the previous flagship 48, a flatter run aft and prop tunnels that gave lift, improved the shaft angle and created blade clearance for a smooth ride. The boat has wide strakes that are more downturned than other Rivieras and a keel for directional stability.
While the Riviera 58 has its own identity, the galley is reminiscent of that in a Bertram 67 Enclosed Bridge, the master cabin is similar to a Viking 61's, and there is a little bit of something from Hatteras in there, too. All good stuff.
The size of the galley, the entertainment system and accommodation, which comprises four cabins with three bathrooms, put this boat in the serious live aboard or long-range category.
Like other Riviera cruisers, the new 58 is backed by a five-year transferable hull warranty. Though it is not built to survey, the underwater engineering is solid stuff, with 2.75in shafts, five-blade 33 x 45in props, and big bronze rudders that make this 58-footer really responsive to the wheel.
The Riviera 58's enclosed flybridge, which is accessed via an offset transverse ladder (with a nice amount of rake and plenty of handrails for safe access at sea) conveniently close to the saloon door.
The dash isn't one big flat panel, old-fashioned and angular, a thoughtless vinyl-clad slab. It is a sweetly moulded dash with elliptical consoles, dedicated mounting areas for 10-inch screens, a huge switch panel on the co-pilot's side, air-conditioning outlets reminiscent of those in a car and comfort derived from, well, those lounges and fully-adjustable electronic leather helm seats.
Other driver conveniences include a Clarion stereo remote with LCD monitor for the three cameras in the saloon, cockpit and engine room, spotlight remote, night driving lights, Furuno electronics, Sidepower bow thruster, electronic Cat engine panels and Twin Disc electronic Power Commander controls.
The floor is that hard-wearing Amtico mock teak-and-holly flooring material. The starboard side is traced by a long U-shaped lounge that converts to a double berth - perfect for the skipper when anchored by the reef - topped in a plush buff-coloured Alcantara mock suede. The lounge has storage inside and can sit six people for cruising.
Opposite is a Granicoat-topped amenities centre with a moulded sink, hot and cold water, 115V outlets so the skipper can run a toaster, wet bar with glass drawers, and two other drawers plus a big cupboard. Skippers can sleep and do breakfast before venturing below for their daily shower.
More than a mere helm station, the enclosed bridge is an entertaining space, cruising spot and additional accommodation. Smart details include handrails on the bridge ceiling and a big sliding saloon door.
With the door closed, you can barely hear the motors running. The Riviera 58 is one of the quietest boats around.
The 58's cockpit is big, with a massive full-length boarding platform with cut-outs to drain the water, a recessed swim ladder and a proper marlin door with big stainless hinges.
The boat has a terrific livebait tank built into the transom, but anglers mightn't warm as much to the raised mooring cleats in the corners that could foul a line. Also, the hinges on the lid for live bait tank need to be beefed up.
There are seven cockpit storage lockers - with double-moulded doors for a smooth internal finish - came across a hot/cold deck shower and manual bilge pump, and noted gas struts on all the subfloor hatches. Portside, there is access to the lazarette and holding tank and evidence in the hull moulding of the big aft tunnels.
Recessed into the teak-topped floor is a massive fish box with overboard drain and a macerator to blend the scales and crud. The box is the size of a small spa, big enough to hold 440 lbs of trimmed fish, a boatload of gear and a load of beer.
Back under the bridge overhang is a day boating centre comprising a moulded icebox with Rivtech temp-adjustable fridge unit, a moulded sink with hot and cold water and four overhead drawers for tackle or bait-rigging items.
An electric Miele barbie rests in a separate moulded unit on the starboard side of the saloon companionway. Just remember to keep the door closed to keep the smoke out.
A separate helm for sports fishing or close-quarters parking is located on the rear bridge deck. The moulded console is fitted with Cat gauges, a carbon-fibre dash panel, Twin Disc electronic shifts and a Sidepower bow thruster joystick. The wheel is anodized alloy.
Near the West Coast-style aft sports fishing helm is a quarter-seat for a photographer. It would be a great place to snap some pics of a big fight. The view down to the cockpit is huge. There is an overhead spotlight and rocket launchers.
There is a separate opening door and a four-step ladder leading down to the engine room, which has stooped standing room down the centreline. The twin Onan generators - 22kW for running the AC units and other onboard luxuries and a 7kW auxiliary. 
The wet exhausts are Riviera's favoured Aqualift system with big pong boxes. They work wonderfully well on this boat, as the V-12 Cats are truly smooth and quiet. They can be started in the engine room via separate ignition panels and each motor has analogue gauge panels for easy servicing.
You also get wet exhausts for the generators, an oil-change system and easy access to the Twin Disc electronic modules. Access is good to all sides of the motors, the big Vortex strainers, and four fuel filters. There is a freshwater tap inside.
The boat's electrical system is 24V/240V. There is a boat lighting plan in the bridge, intercom system, auto fire system, fuel shut-offs below the galley floor, engine shut-offs at the helm station, manual and auto bilge pumps, and a high-water alarm linked to a flashing blue light on the bridge hardtop.
Big engine vents with a dorade system seem to pump plenty of air inside and the engine room was well-planned.
The Riviera has a more traditional feel, a Bertram ambience derived from lots of high-gloss timeless teak joinery – cherry wood in a more modern option - stately brown leather and privacy behind Roman blinds. 
Big on floor space, the saloon is three steps away from the cockpit, accessed via a terrific sound-insulating saloon door offset to starboard. The AC/DC control panel is located in a teak cupboard right near the door.
Along the starboard side is a big teak wet bar with illuminated glass and bottle storage, a recessed sink with hot/cold water and lots of storage. There is a fridge unit for the Pina Colada mix  and a clever cupboard with a pull-out tea towel rack.
The saloon is air conditioned via a 24,000BTU unit, with another two 24K units for the cabins and bridge.
To port is the most enormous of all the leather lounges. It can seat six or seven people comfortably beside the saloon's picture windows, facing the boat's big flat-screen television, DVD player and timber coffee table. An intercom is nearby.
A handrail aids your passage forward to the dedicated dinette to port, with another L-shaped leather lounge and a beautiful high-gloss timber dining table, mounted on two stout stanchions, which you can easily set for four people. Views stretch out the windows and the dinette is within arm's reach of the galley.
Opposite and above the dinette is the boat's entertainment system, which includes a Bose lifestyle 50 sound system, huge Sony flat-screen DVD/CD/VCR and a cupboard for the video remotes. From wherever you sit in the saloon, the big screen is clearly visible. Floor and lounge space is sufficient to entertain 12 people.
Five steps down from the saloon is a vast amount of accommodation. The crew or kids' cabin to port, which has bunks that are top-and-tailed, can be converted to a utility room, workshop or tackle locker. But many might prefer the extra berths which are adult-length. The cabin also has a Thor washer/dryer, Intervac ducted vacuum system and some storage for personals.
Though it is a small detail, it is worth noting that all the doors on the Riviera 58 have double-toothed catches to prevent vibration.
Naturally, the owners' cabin is the highlight. Running transverse on the portside, the big cabin has an extra-large queen-sized island bed facing back to the boat's centre line, but roughly amidships where there isn't too much chine noise or motion.
The owners are treated to a walk-in wardrobe, full-length hanging locker, dresser with stool, big mirror and twin drawers, separate Sony television and DVD player, his-and-her bedside tables, drawers under the bed, an overhead hatch and air-con controls.
The first of three bathrooms is the owners' ensuite. The VIP guests also have an ensuite, while the dayhead is shared by occupants of the smaller third and fourth cabins and short-term guests.
Each bathroom features a full-sized shower stall just like home, lots of dressing room, moulded Granicoat vanity and Vacuflush toilet.  There are stylish Grohe fittings, extractor fans and air-con outlets, frosted hatches, moulded sinks, storage for personals, mirrors.
The third cabin to port has twin bunks topped with gold and black fitted bedspreads, two drawers and a hanging locker. It plays second fiddle to the master guests' cabin in the bow, which has an island queen-sized bed and his-and-her hanging lockers.
In total there is a sleeping capacity of eight, plus one in the enclosed flybridge.
That comfortable lounge in the saloon is also big enough to sleep an adult by night or day, taking the boat's accommodation to 10 - or two big families.
With the big 3412 Cats, the Riviera 58 was amazingly quiet. The engines were barely discernible with the bridge door closed. Think of it like a Benz idling at the lights. You could carry on a conversation as though sitting in a library.
In fact, you are so removed in the bridge with the door shut that the Clarion video system should be considered an essential bit of gear to keep in contact and monitor what's happening in other parts of the boat.
The big V-12s don't work too hard on the Riviera. At 1000rpm they produce around 9kts, which is a comfortable troll speed. As you apply the throttle, the boat moves to planning speed with what I would call a flat transition.
Cruise speed of 27kt on the GPS at 1750rpm, where fuel consumption would be around 45 gal/hr per motor. Top speed at 2350rpm was 35.8kt. 
Offshore, the big battlewagon travels with a perfect, natural trim angle - we were half full of fuel and water - and it most definitely shunts the spray flatter than all other Riviera's. With a genuine 36kt-plus top speed, the boat is terrifically fast if you want it to be.
Offering more bang for your buck, the new Riviera 58 is a top entertainer, a luxury live aboard boat, a long-range fishing platform and comfortable cruiser. It is all these things and, well, it is just a beautiful place to unwind.
Specifications
Total Engine Power
2,800 hp
Engine 1 Specifications
Propeller Type:
Stainless Steel
Engine 2 Specifications
Propeller Type:
Stainless Steel
Engine Location:
Starboard
Tankage
Fresh Water Tanks: 264 Gallons
Fuel Tanks: (506 Gallons
Holding Tanks: 73 Gallons
Accommodations
Number of single berths:6
Number of double berths: 2
Number of cabins: 3
Number of heads: 3
Electronics
TV sets - 3 Sharp flat screen TVs ,
40 VCR CD player
Cockpit speakers
VHF - Icom 502 and 602 and Sea VHF in salon
XM Radio
GPS - Furuno
NavNet 10
Radar - Furuno 72 mile Bird radar w/Patrick auto leveler
Autopilot - Simrad wireless remote
autopilot (3 station)
Plotter - Furuno NavNet
DVD player
Repeater(s) Depthsounder - Furuno 303 Side-scanning
Compass Navigation center
Radio - two Clarions and Bose
Inside Equipment
Hot water
Electric bilge pump
Sea water pump
Bow thruster
Dishwasher
Oven - Princes 4 burners.
Washing machine
Manual bilge pump
Air compressor
Deep freezer - Drop in freezer.
Battery charger
Microwave oven - GE microwave/convection oven.
Fresh water maker - Village marine 600 gal/day w/auto flush
Heating - reverse cycle unit
Refrigerator - 4 U-Line refrigerated drawers.
Marine head
Air conditioning - 6 unit with a total 76,000 BTUs
Electrical
Shore power inlet - GlenDening Cable Master
Generator - Onan 27.5 kw and Onan 9kw
Inverter
Outside Equipment
Swimming ladder
Cockpit cushions
Tender - Zodiak 6 person
Teak cockpit Cockpit
Shower
Davit - Steelhead marine Davit 100 lbs (Hydraulic)
Hydraulic windlass
Engines and Engine room
Twin Cats 3412E, 1400hp each.
Generator 1 Onan 27.5kw (1300 hs).
Generator 2 Onan 9kw (150 hs).
Bow Thruster.
Watermaker Village Marine 600 gal/day with autoflush.
Eskimo shaved ice maker 600 pounds a day.
Glen Denning cable master.
Halon fire suppression system.
Block heaters.
Electric oil change - System main engines and generators.
Hydraulic power assisted steering.
Complete engine room gauges package.
New dripless Drive shaft.
Air compressor.
AC and DC Lighting.
Intercom system.
Electronics
Furuno 72 mile "Bird radar" w/"Patrick" auto leveler.
Furuno 303 sonar.
Simrad wireless remote Auto Pilot (3 station)
Furuno Nav Net 10" screen in tower.
Icom 502 and 602, 2 meters with two command mics, Sea VHF in salon, XM Radio.
Twin disc electronic controls with trolling valves. Furuno Multimeter in tower and aft bridge station.
Three 15" flat monitors in console.
Iridium satellite phone.
Air horn.
Cameras throughout.
Custom molded Nav Lights.
Night Vision Technology (NVT) with infrared and thermal imaging.
Tower
Saltwater Specialties/Pipe Welders Tower,
6 foot gap.
Twin Disc throttle controls.
Edson Steering wheel.
Custom gyro bino armrests
Two Pompanette custom observation chairs on Hardtop.
Fiberglass sunshade with lighting.
Three Quartz lights (2 Facing aft, 1 facing forward).
Fishing Equipment
Outriggers: Pipe Welder triple spreaders, Pipe Welder center rigger.
Video Cameras: two digital video recorders and cameras, underwater thru hull camera.
Three custom transom tanks- 45 Gal each.
Five S/S Precision marine gunnel rod holders.
Thirteen rod holders in Aft bridge railing.
Swim Step with Custom teak overlay and swim ladder.
Transom door.
Cockpit combing.
Fresh water hand-held shower.
Cockpit switch panel.
Custom mezzanine and seats in cockpit.
Enclosed Bridge
Air conditioning 24,000 BTUs- with reverse cycle.
Door to Aft bridge station.
Tinted tempered glass.
Forward helm position.
Two electric Bezanzoni helm chairs.
Teak and holly flooring.
Intercom
Lounge seating area.
Wet bar and refrigerator.
Red night lights.
State-of-the-art computer.
Muir anchor chain counter.
Night vision technology (NVT)remote controlled.
ACR Spotlight (remote)
Cat monitors.
Salon
Air conditioning 24,000 BTUs reverse cycle.
Bar with bottle /glass storage.
Side bar liquor dispenser.
Refrigerated wine cooler.
U-Line ice maker.
Berber carpeting.
Wet bar.
Safety monitoring panel over head.
Cherry cabinetry.
Leather settee and dinette.
Central vacuum system.
Galley
Four U-Line refrigerated drawers.
Trash compactor.
Princess electric cook top, four element.
GE microwave/convection oven.
Teak & holly flooring.
Two stainless steel sinks.
Garbage disposal.
Drop in freezer.
Sharp carousel microwave/convection oven.
Entertainment
Three flat screen TVs.
40" Sony flat screen in salon with DVD/VCR combo.
20" Sharp TVs in Master and VIP stateroom.
XM Radio.
Bose surround sound system.
Clarion stereos in forward and starboard staterooms and fly bridge
Master Stateroom ( Port)
Air conditioning 10,000 BTUs.
Private entrance door.
Dressing table with drawers, mirror, two overhead lights.
En-suite head with stall shower.
Walk in hanging locker with interior light.
Queen walk-around berth with inner spring mattress.
Reading lights.
Under berth storage with drawers.
Sharp flat screen TV with DVD player.
Bose stereo system.
Safe box.
VIP Stateroom (Forward)
Air conditioning 10,000 BTUs.
Private entrance door.
Queen walk-around berth with inner spring mattress.
Sharp flat screen TV with DVD player.
Clarion stereo.
Telephone outlet.
Vanity shelf- port and starboard outboard.
Ensuite head with stall shower.
Guest Stateroom (Starboard)
Air conditioning 4,000 BTUs.
Hanging locker with interior light.
Hatch with screen and blind.
Reading lights.
Upper and lower berths (foam mattress)
Clarion stereo system.
Head entrance.
Captains Stateroom / laundry (Starboard)
Air conditioning 4000 BTUs
Hanging locker with interior light.
Private entrance door.
Reading lights.
Upper berth (foam mattress).
Washer and dryer (separate).
Disclaimer
The Company offers the details of this vessel in good faith but cannot guarantee or warrant the accuracy of this information nor warrant the condition of the vessel. A buyer should instruct his agents, or his surveyors, to investigate such details as the buyer desires validated. This vessel is offered subject to prior sale, price change, or withdrawal without notice.
Additional Contact Information
Contact Randall Burg, 954 870 3667, to see the 58' Riviera.
New video if the 58' Riviera : https://youtu.be/IOFOlDdMOsk