Love That Yacht
,
Fort Lauderdale FL, 33301
Tel:954-870-3667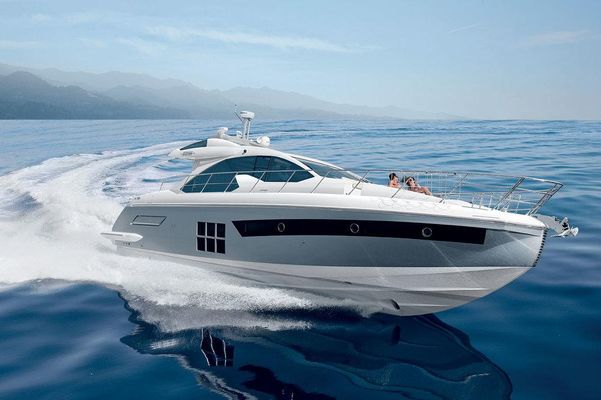 2014 Azimut 55S
Fort Lauderdale, Florida, United States
Note: The Azimut us currently unavailable for showing until work onboard has been completed
Powered by triple  (3) Volvo  D6 600HP's &  IPS drives with 620 hrs. All service up to date.
Crew quarters 
New batteries 8-2021
New AC controller 5- 2021
Generator serviced 8-2021
New carpets 10-2021
New salon wood floor 9-2021
Beach works great
Included 11'Jet tender
All softgoods and canvas covers in like new condition
Azimuts S Collection represents a stunning shift in styling by Stefano Righini. Full of innovative features, the new 55S makes good use of the space-saving possibilities afforded by a triple Volvo IPS package, including a garage for a 9-foot 4-inch  tender and an expandable beach club.
AZIMUT 55S NEW REVOLUTION NEW DESIGN - NEW COMFORT - TRIPLE  (3) IPS POD DRIVES
The triple IPS drive installation equipped with supercharged and turbocharged engines for maximum performance. Smaller in dimension and lower in weight when compared to traditional shaft-drive configurations. Engines located at the aft of the vessel, thereby freeing up large amounts of space now available to enhance onboard livability. Duo forward-facing and counter-rotating propellers, eliminate vibration, maximize thrust and neutralize directional deviation. Forward facing props maximize efficiency from undisturbed waters compared to turbulence generated by fixed shaft underwater gear.
Azimuts choice of IPS drives has made other choices inevitable. The engines have to be mounted right astern, so the crew cabin has to be up in the bow. This means, in turn, that the VIP cabin has to be set farther aft than usual, in a wider and roomier part of the hull. Luckily, the IPS600 motors are low as well as short, so there is room for a shallow tender garage over the top of them. 
So you might go aboard the Azimut 55S expecting her to look bigger, at least down below, than the competition. The VIP, in particular, has something of the feel of an amidships suite, with substantial hull windows, a full-size bed, 6 feet 7 inches of headroom, and two useful hanging lockers. The head access is good. Across on the starboard side, and sharing the dayhead with the VIP, the twin-berth guest cabin has just the single hanging locker and additional stowage under the mattresses.
It is in the master cabin that the extra hull volume made available by the shorter engine compartment has really been put to work. It is an L-shaped suite, with a good-size head and shower compartment offset on the port side, which allows the sleeping area to span the full beam of the hull. A big berth (6 feet 5 inches by 5 feet 4 inches) is set on the diagonal, while there is an expanse of floor space and a genuinely useful two-seat dinette to port, by the window. What a great spot for a breakfast tête-à-tête. There is also plenty of stowage, including a large hanging locker and a vast space under the bed, which lifts up on gas struts. Headroom is a reasonable 6 feet 3 inches. 
While the real benefit of the small engine compartment makes itself felt on the accommodations level, up on the main deck there are some smart design elements that also conspire to maximize the size of this 55. There is no step between cockpit and saloon, and the glass cockpit door is divided into four sections that slide away over to starboard. A drop-in seat can be positioned to cross the divide on the port side, joining up with the cockpit's port-side seating and fostering a sense of continuity between the inside and outside. Meanwhile a huge sunroof in the hardtop opens up to the sky. Very cleverly, the side deck to port continues straight down to the aft steps, without invading the cockpit. 
The convertible saloon sofa on the port side is a typical Azimut touch. The seat back slides fore and aft and also goes up and down, creating either a raised, forward-facing sofa for use underway, or a comfortable bench seat for the dining table. It's both smart and space-saving. The galley is similarly deceptive, revealing itself from what looks like a sideboard along the starboard side, and seeming to disappear once the worktops are lowered again. Stowage appears in unexpected places, like the bespoke crockery drawer under the helm seat.
With two separate seats and an adjustable wheel, the helm station is strictly business. Sight lines are excellent, and the Volvo Penta / Raymarine Hybrid/Touch electronics package offers great control. The dash layout is busy but workable, and, in a forgivable outbreak of showboating, surmounted by the three tachometers. Look again: Three! However many engines you have, it generally takes at least 1,200-horsepower to make 20 tons of sports cruiser get up and go. The 55S's 1,305-horsepower triple-IPS installation pushed her up onto plane from a standing start in less than 15 seconds, with peak velocity clocking in 20 seconds later. Azimut claims a 36-knot top speed for the 55S, and cruising speeds from around 22 to 30 knots are a comfortable and a practical prospect, which is more than adequate for most of us. 
Underway the Azimut is lively and responsive to the helm, and remarkably quiet in the saloon with the roof and doors closed, which will make for stress-free passagemaking. That clever sofa comes into its own underway, providing an extra forward-facing seat with great views all round. 
Specifications
Total Engine Power
1,287 hp
Displacement Type
Dry Load
Engine 1 Specifications
Propeller Type:
4 Blade, Bronze, Duoprop
Engine 2 Specifications
Propeller Type:
4 Blade, Bronze, Duoprop
Engine 3 Specifications
Propeller Type:
4 Blade, Bronze, Duoprop
Engine Location:
Starboard
Steering System
Joystick Control
Structure and shape of hull
The structural design of the keel has been RINA approved. This implies a further guarantee of the structure's quality; This is also guaranteed by the use of state-of-the-art techniques and the materials used. Construction materials and techniques have been carefully researched in order to find the best balance between quality, weight, and rigidity. The hull, deck, trays and structures are made of high performance sandwich panel with PVC core to achieve maximum rigidity and impact resistance.
An infusion lamination system has been used for these parts, a technique that reduces weight while improving the control and quality of the construction. Vinylester resin is used for the first layers of the hull. This type of resin is extremely effective in preventing osmosis because of its chemical and mechanical properties. Azimut is therefore able to provide a 5-year warranty against osmosis. The deck, deckhouse and deckhouse top are in carbon glass and vinylester resin, to guarantee maximum rigidity and mechanical resistance and considerably reduce the weight compared with conventional glass materials.
The structural bulkheads are in sandwich panel with PVC core. The main pairings (such as hull-deck) are made by means of structural gluing. Deadrise 15.8° aft and 21° in the middle. The presence of large spray rails increases the lift and reduces the roll.
Propulsion system component characteristics
Reported 620 hrs on engines and IPS drives. All service current
Main engines
Quantity Three (6-cylinder diesel)
Manufacturer VOLVO PENTA
Model D6
Max. power kW 320
Total displacement 5.5 lt.
Dry engine weight 631kg
Marine gears
Manufacturer VOLVO PENTA
Model IPS 600
Reduction ratio 1.81:1
Dry marine gear weight 270kg
Steering gear
Quantity Three, integrated
Type integrated in the VOLVO IPS system
Propellers
Quantity Six (2 counterrotating for each IPS)
Type Four blades
Bow and walk aroundsBow
Anchor chain housing
Chain washing pump system with direct water jet on the chain
DELTA 25kg anchor
75-meter high-resistance gaged chain, diameter 10mm
Stainless steel anchor roller
1700W winch
2 cleats (one per side)
Fore sunbed area with two handrails and forward-facing sofa in GRP
Walk arounds
Refueling plugs - 1 plug per side
Fresh water filling plug, 1 "Water" plug without cover, starboard side
Black water suction points, 1 "Waste" outlet water plug without cover, port side
Intermediate cleats
GRP non-slip floor (knurled)
Cockpit, Garage, and Beach Platform
Cockpit
Aft access via two passages - one from shore (starboard side, where there is the gangway), and the other for platform access (port side)
Saloon door in stainless steel with 4 panels (3 sliding)
Cockpit bench in GRP, built into the deck
Engine room access via cockpit bench, port side
Engine unloading door
Teak floor
Mooring stations
Lighting with watertight spotlights on ceiling
Fire extinguisher controls with protective Plexiglas door
Flexible fender holder in the cockpit bench
Lockers for lines below the mooring stations (1 per side)
Storage locker fore of the cockpit bench (starboard side)
Bottle-holder / cup holder locker on left side
Platform and garage
Williams 285 with folding backrest and removable steering wheel. GRP non-slip floor (knurled) included
Tip-up platform acting as door for garage/sunbed platform/ramp for tender haulage
Platform dimensions:
- closed: 845 x 2483mm
- open: 1820 x 2483mm
Shore power socket on the upper port side of the top step, protected by a cover
2 handrails on sides of boarding gates
External shower on port side
Walkway lights on the steps of the cockpit access ladder
Manual telescopic 4-rung swimming ladder in stainless steel, with removable handles located in the garage
Aft rub-rail with stainless steel insert
Courtesy light inside the garage
Garage sized to house a tender measuring:
- max. length 2850mm
- max. width: 1850mm aft, 1750mm fore
- max. height: 900mm
- electric winch for tender: PTG 1000 350W 24V
Wheelhouse
Helm seat
Compartment for crockery under the seat
Manually operated window
Steering wheel
The wheelhouse includes:
- Engine controls
- Miscellaneous switches (horn, navigation lights, windscreen wipers, etc.)
- 12V cigarette lighter socket
- Raymarine easy cruising system
- 7" Volvo display
- 3 rpm indicators
- 3 engine start/stop keys
Saloon / Dinette / Galley
A single room, with the galley on the starboard side
Tip-up flap in galley, to hide the appliances when they are not being used
4-hob range
20-liter microwave oven
1 stainless steel sink
1 30-liter refrigerator
48-liter freezer
"C"-shaped sofa with 4 seats on port side 
Openable hard top (controls in wheelhouse).
Carpeted floor
Saloon door blind
Halogen lighting
Fixed table with storage area in the base
Provision for TV system with aerial
Stainless steel handrail at top of stairs leading down to the cabins
Ceiling and walls upholstering in fabric
Master Stateroom
Located midship
Diagonal double bed with headboard on starboard side
Foldaway bed for accessing the large locker below
Shelf beside the bed
Vanity table with armchairs on the left side
Lighting with spotlights and LED strips
2 openable portlights, one per side (rectangular portlight inserted in the window)
Rectangular hull windows
Direct access to head
1 mirror on the vanity table
1 mirror in the wardrobe
Aluminium Venetian blinds on the windows
Fabric bulwark upholstery
Fabric ceiling panels
Carpeted floor
2 wall lights on headboard
2-panel wardrobe with shelves behind the headboard
Walkway lights on the cabin access steps
Sockets
Provision for TV system with aerial
Master HeadOwner's head
Located forward of the owner's cabin, on port side
Access from owner's cabin
Top and oval washbasin
TECMA toilet
Chromed mixer tap
Separate shower enclosure; flat shower door
Shower column and seat in metallic black ABS
Wall unit with 2 sliding panels above washbasin
Lighting: ceiling light on wall unit, and spotlights in the shower
1 openable portlight with aluminium Venetian blind
Flooring and grating in Zebrano wood
Forced extractor
1 toilet brush holder
2 clothes hooks
1 soap dispenser
1 toilet roll holder
1 towel rail
1 Plexiglas soap dish in shower
VIP Stateroom
Located at the bow
Fixed double bed
2 wall units above the side windows
1 wardrobe with hanger bar on port side
1 wardrobe with shelves on starboard side
Shelf on the sides of the bed, against the bulwark
2 under-bed lockers
2 wall lights on headboard
Carpeted floor
Fixed panoramic windows
Rectangular hatchway leading onto fore sunbed area
Aluminium Venetian blinds on the windows
Spotlights
Fabric bulwark upholstery
Ceiling with fabric panels
Direct access to VIP head
Sockets
Guest Staterooom
Located on starboard side
2 single beds, fixed
1 central bedside table between the beds
1 wardrobe with hanger bar and shelves
Under-bed lockers
Ceiling with fabric panels
Fabric bulwark upholstery
1 openable round portlight
Aluminium Venetian blind
Carpeted floor
Halogen spotlights lighting
Wall lights on headboard
VIP/Guest head
Positioned abaft of the VIP cabin on port side
Direct access from the VIP cabin or from the corridor
TECMA toilet
Top in Zebrano wood and oval washbasin
Chromed mixer tap
3-door round shower, not separated
Shower column in metallic black ABS
Wall unit with 2 sliding panels above washbasin
Lighting: ceiling light on wall unit, and spotlights in the shower
1 round openable portlight with aluminium Venetian blind
Flooring and grating in Zebrano wood
Forced extraction
1 toilet brush holder
2 clothes hooks
1 soap dispenser
1 toilet roll holder
1 towel rail
1 Plexiglas soap dish in shower
Crew Cabin and head
Access via rectangular hatchway with lock closure
Located in the fore part of the boat
1 single tip-up bed
1 openable round portlight on the starboard side
2 wardrobes (1 on each bulwark)
2 flexible removable bags
Spotlights lighting
1 socket 220V
Crew head (OPT)
TECMA toilet
Shower with anti-spray curtain
Shower grating
Washbasin with flexible hose tap for shower
Electrical systems
Main characteristics:
The voltage levels on board are: 220V – 50 Hz A.C. / 24V (12V for VHF equipment and cigarette lighter socket)
1 QDC1 = Distribution board 24V DC, engine room
1 QDC2 = Auxiliary distribution board 24V DC, engine room
1 QDC3 = Folding panel, guest cabin
1 QAC1 = Main board 120/230V AC, engine room
1 QAC2 = Support distribution board 220V Folding panel, guest cabin
1 HPAC = Utilities control panel 120/230V AC, under the dashboard
1 HPDC = Utilities panel 24V DC, under the dashboard
Steering system = electric, integrated in the IPS drive
Trim tabs = 2 electric trim tabs 24V, 16" x 17" AISI 316
Cockpit utilities panel:
- Service battery cut-out button
- Engine 1 battery cut-out button
- Engine 2 battery cut-out button
- Engine 3 battery cut-out button
- Generator battery cut-out button
Galvanic current insulation
Generator
A 3.5 kW - 220V / 50 Hz generator is provided
Shore power sockets
1 service socket 220V – 50A
Batteries
Services: 6 connected batteries, each delivering 12V 90 Ah
Engines: 6 batteries (2 for each engine), each delivering 12V 70 Ah
Generator: 1 battery delivering 12V 70 Ah
Electronic battery charger 60A (220 /110V)
Battery charger for generator 10A (220 /110V)
60-liter Sigmar Compact water heater 220V - 800W in engine room
Lights and sockets
AC sockets: EU type
DC sockets: cigarette lighter type (wheelhouse)
24 V lighting (halogen)
24V watertight external lights
TV socket in saloon and owner's cabin
Electronic Nav systems
Wheelhouse:
Raymarine dual panel Hybrid/Touch Bronze Package
Bilge system
4 24V electric pumps - (3 in engine room, 1 in owner's cabin), with bulwark outlet
1 24V electric bilge pump
2 manual emergency pumps; 1 in engine room and 1 in owner's cabin, with bulwark outlet
Level alarms on alarm display
Fire extinguishing system
Activation handles in cockpit, and emergency key
1 RINA-approved  cylinder with nozzles on the engines
Fuel system
2 stainless steel tanks with connections (800 liters each, for a total of 1600 liters).
Electronic level gage
Optical fuel level gage on starboard tank in engine room
3 single settling filters for engines
1 filter for generator
2 refueling plugs on walk arounds
2 vents on bulwark
Remote diesel shut-off (engine and generator) via 24V solenoid valve
Pipe connecting the two tanks to adjust the fuel level
Fuel drawing tap 
Fresh Water system
A 590-liter polyethylene tank beneath the floor of the cabin access corridor
Water filling from bow (starboard side)
Level sensor with electronic gage in wheelhouse
1 tank vent on the port bulwark
Pressure pump
60-liter Sigmar Compact water heater 220V - 800W in engine room
Hot/cold water line: all heads, galley, external platform shower head. Cold water only in engine room and cockpit cabinet (if fitted).
Fresh water toilet flushing
System that can be isolated by ACORN manifolds
Black Water system
1 175 l tank in polyethylene under the VIP cabin floor
Level sensor (2 levels)
1 tank vent with anti-odor filter on starboard bulwark
1 FEIT PVM 0.2 macerator pump under the guest cabin floor
Suction point from walkway (port side)
Outboard discharge under VIP cabin bed
Tecma toilet (with macerator pump). All the toilets discharge into a tank (including the crew cabin toilet, if envisaged).
Gray Water System
1 175-liter polyethylene tank beneath the floor of the cabin access corridor
Level sensor (2 levels) with alarm indicator in wheelhouse
Water discharge: from tank (automatic / manual) below VIP cabin bed
FEIT membrane pump below guest cabin floor
Sea Water System
Engine cooling system: dynamic seawater intakes integrated in IPS system for port and starboard engines and dynamic seawater intake in keel with ball valve located fore of the port engine which serves the central engine
Generator cooling system: submerged outlet: 1 dynamic 1" seawater intake with filter and valve
Air conditioning cooling system: submerged outlet: 1 dynamic 1" seawater intake with filter and valve
Chain wash pump: seawater
Engine Room Access
Engine room access via cockpit bench, port side
Ventilation
Head ventilation: 24V forced intake in owner's head, and natural intake in VIP head
Engine room:
- Natural air intake through hull bulwark intake (1 per side)
- Forced extraction: with 2 fans 24V (1 per side)
Sun Roof and other systems
Openable roof: the roof is moved by means of two hydraulic cylinders fixed to the flybridge upper fwd and activated via a 24V electro-hydraulic control unit located in the engine room. Roof movement is managed with the aid of buttons in the wheelhouse
Garage door: the garage door is moved by means of two hydraulic cylinders fixed  to the deck and controlled via a 24V electro-hydraulic control unit. The control unit for the door is the same one used to control the gangway. Door movement is managed with the aid of a panel located on the right side of the cockpit bench (gangway access side)
Air conditioning system
1 compressor in engine room (total 72 kBTU)
1 seawater pump with relevant seawater intake in engine room
Distribution:
- Saloon + Galley + Dinette 2 x 14800 BTU
- Wheelhouse 16000 BTU
- Owner's cabin 12500 BTU
- VIP cabin 12500 BTU
- Guest cabin 6200 BTU
- Crew cabin 4480 BTU
- A/C cut-out in owner's head
Disclaimer
The Company offers the details of this vessel in good faith but cannot guarantee or warrant the accuracy of this information nor warrant the condition of the vessel. A buyer should instruct his agents, or his surveyors, to investigate such details as the buyer desires validated. This vessel is offered subject to prior sale, price change, or withdrawal without notice.
Additional Contact Information
Contact Randall Burg to see this breathtaking  3- engine IPS POD driven 55' Azimut 55S.  954 870 3667
New Youtube video of the 55' Azimut 55S by Love That Yacht:https://youtu.be/2JsSw7oqmCkAzimut
Factory video of the 55S: https://www.youtube.com/watch?v=NDfPvSYTzMc
Robb Report video of the 55S: https://www.youtube.com/watch?v=UrZq85DGrtc